Back to overview
SUSPACC
Green and circular SME's
The Sustainable Products and Chemicals Cluster (SUSPACC) consists of a proactive SME business network that is investing in the green and circular industry. Their goal is to represent the common interests of SME's at local, regional, national and international level.
Further developing the green chemical sector is one of their main drivers, as well as strengthening mutual relationships. SUSPACC does this by co-developing a yearly updated R&D agenda together with the local government and knowledge institutes; which in turn results in a more cohesive & innovative industrial ecosystem and maintaining future talents.
Gaining a stronger international position
Many large industrial firms are very capable of putting in the work that is required to get a hold of large European (R&D) funds. What we are seeing is that SMEs have less clout and that is precisely what this network provides for. Joining forces gives us a stronger position in the market and contributes positively to the profiling and visibility of the members individually. Together we can make larger steps towards a greener chemical industry.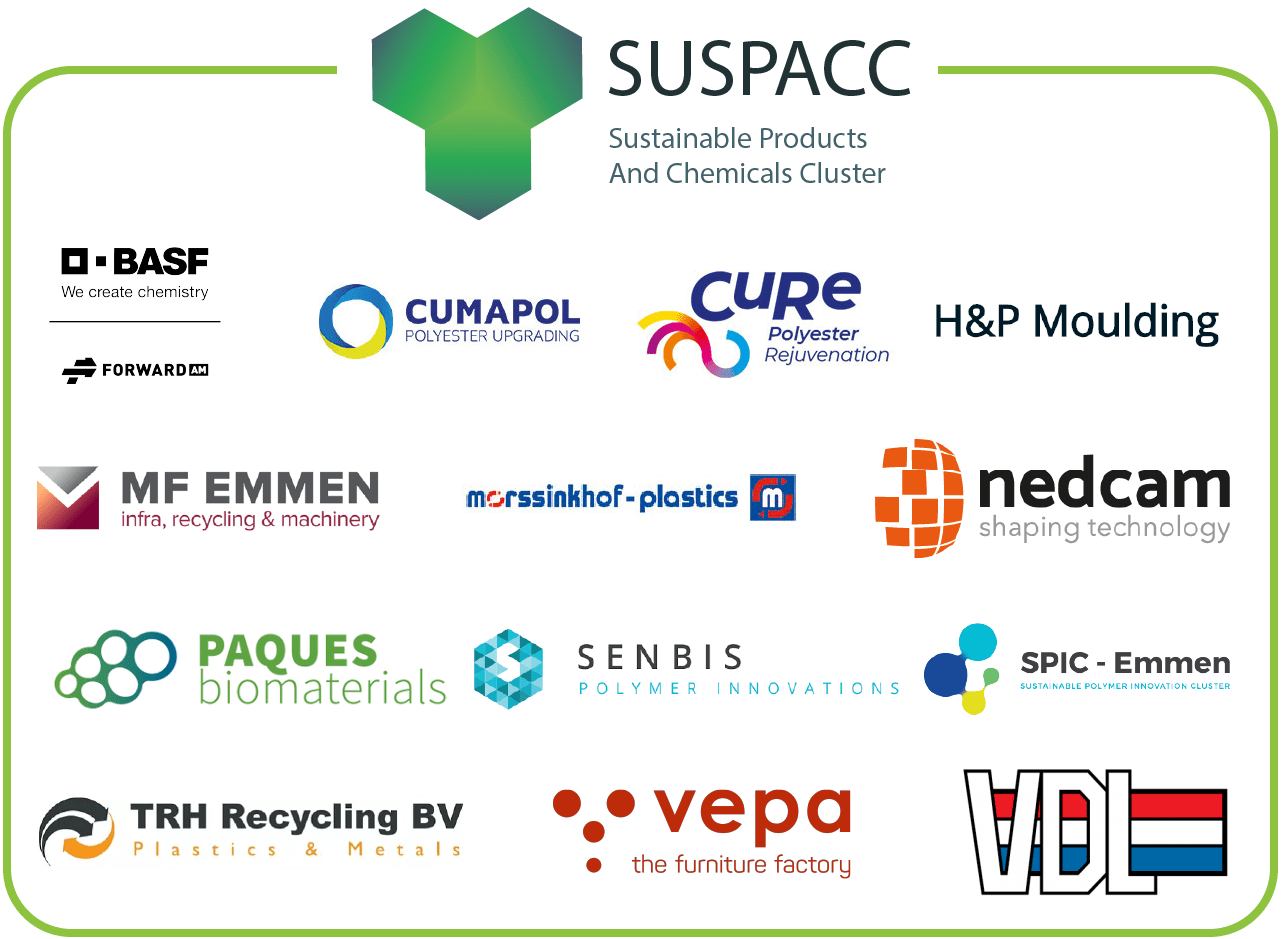 Accelerated R&D activities
Within the business network of SUSPACC there is a close collaboration with the Taskforce Green Chemistry. The main objective of this taskforce is to support and accelerate industrial innovation in Southeast Drenthe. Expertise are in the area of: Business development, R&D, national and internationally lobbying, material knowledge on polymers and composites, and much more. A major advantage of the collaboration with the taskforce is that it allows for SUSPACC members to receive support in the areas such as project- & product development, business development, accelerated development of test/demo/pilot sites. These activities are often very time-extensive and requires capabilities which an average SME does not have. This way, members can continue to do their business and through SUSPACC get the support that takes them a step further towards sustainability/circularity.
Do you want to join?
Are you an SME located in the Northern Netherlands, and active in the circular polymer sector? Do you want to benefit from this cooperation to accelerate your R&D process and to gain a stronger international position? You are welcome to join! Contact us for more information.