Want to know more about this article?
Back to overview
SPIC Facilities: equipment and expertise for sustainable plastics
The Sustainable Polymer Innovation Cluster in Emmen is getting a big boost. The first machines of a €5.5 million planned investments are now getting operational and accessible for clients. The latest addition is a twin screw extruder on pilot scale, the 'Rolls Royce' in its class. Senbis Polymer Innovation contributed a large chunk of the investment in SPIC. CEO Gerard Nijhoving explains the importance of SPIC: 'These pilot facilities in combination with industrial knowledge are unique in Europe, and a great billboard for the Emmen polymer cluster.'
The GETEC PARK.EMMEN (previously known as Emmtec business park) hosts an impressive cluster of companies involved in the production and recycling of plastics. Together with nearby universities, these companies formed the Sustainable Polymer Innovation Cluster (SPIC). The cluster offers technology, expertise and products to companies that aim to make plastic products more sustainable.
Access to equipment
'Most of the SPIC participants are production companies. They are willing to provide access to some of their equipment to third parties as long as it does not distract their core production business. It is particularly interesting if it involves sustainable innovations that can lead to long term production collaborations', explains Nijhoving.
'SPIC Facilities coordinates the market requests for R&D, upscaling and production. And we help finding the right partner for the right phase.'
Another role for SPIC Facilities is to invest in, realize, and operate pilot equipment, thus filling the technology gaps that were identified in the cluster.
' The Northern Netherlands Alliance (SNN), the province of Drenthe and the municipality of Emmen were willing to provide subsidies to stimulate the investment, but it had to be matched by private funding. Nijhoving: 'For long we were investigating a joint venture cooperation between different companies, but that ended up being too complex. In the end, Senbis decided to take over this role and founded SPIC Facilities.
Of all the companies in the cluster, the exploitation of pilot facilities fits us best, as our main activities are R&D services.' Senbis and its present customer base will therefore be initial users of the facilities. It assures a healthy start of the project with sufficient options for baseline coverage of equipment capacity.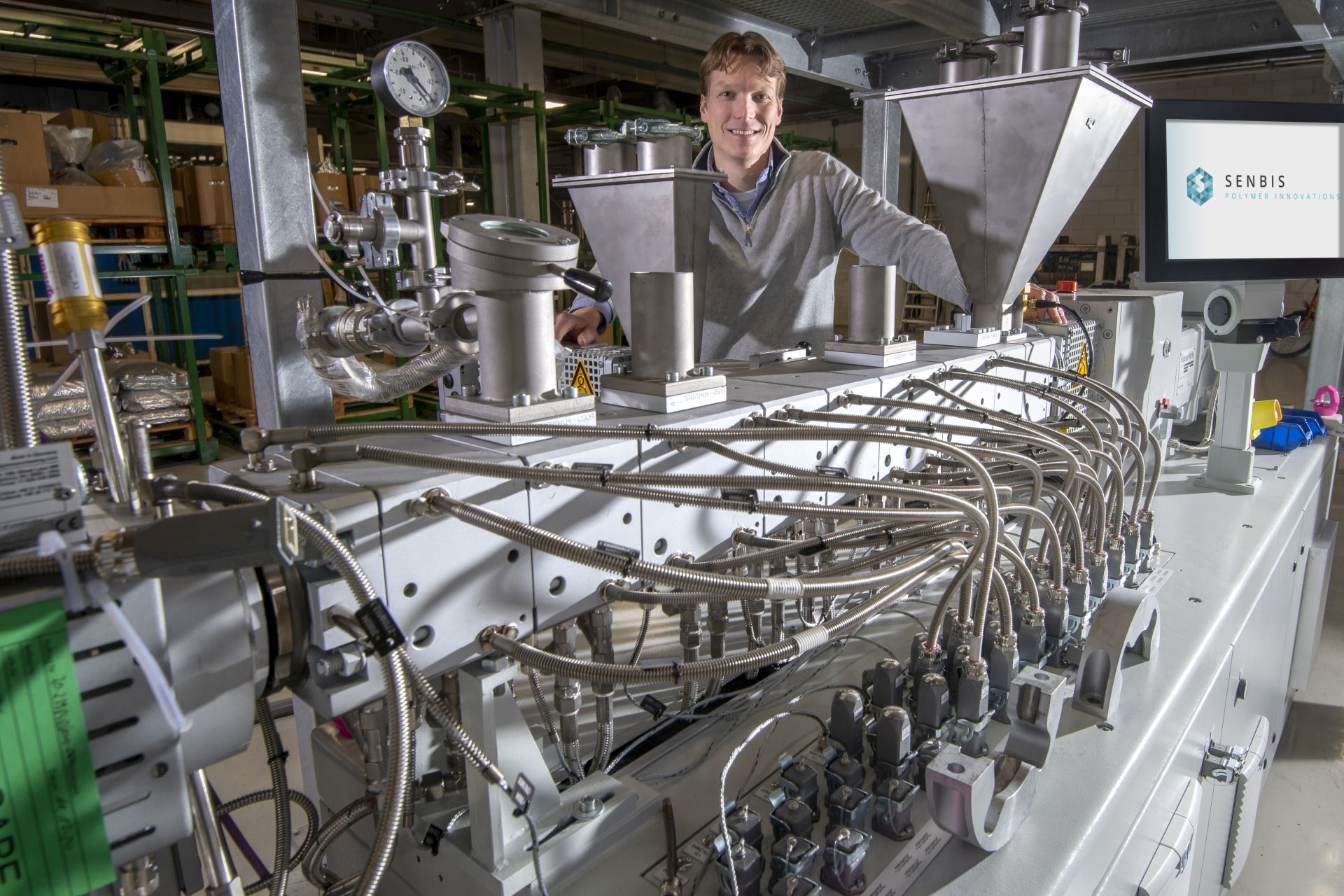 Research and scale up of sustainable plastic innovations
The latest addition to SPIC facilities is a new twin screw extruder, the KraussMaffei ZE28 BluePower. 'We ticked off almost all the options. It's the Rolls Royce in extruders', says Nijhoving. 'And we had it customized so it connects to a monofilament drawing and winding line. This makes it unique.' The new machine can mix polymers with additives in the form of powder, liquid or fibres to produce compounds at temperatures of up to 420 degrees. Throughput is possible at three levels of 10, 30 or 50 kilogram.
It is a typical machine which companies need to scale up products or processes developed in the lab. 'You need these amounts to evaluate new polymer compounds in applications such as packaging, injection moulding, fibers etc, and sample it to customers', says Nijhoving. This stage in R&D is often difficult for start-ups or SMEs, as the equipment like this extruder is rather expensive.
Expertise and partnerships
Not only hardware is important at this stage. 'Especially the SMEs are not just looking for a particular piece of equipment, they want a solution to a problem.' With specialised R&D companies like Senbis, and the expertise of others, SPIC can provide this service. The combination of different technologies, like polymerisation, compounding, and the production of mono- or multifilament yarns, means that this facility is unique in Europe. Even multinationals come to Emmen to outsource part of their R&D program. 'All this brings Emmen and its industrial cluster to the attention of new companies, which may eventually move part of their business here', says Nijhoving. 'SPIC is actually a great billboard for Emmen.'
Your trials at SPIC?
As SPIC Facilities is partly publicly funded, the equipment will be fully accessible to anyone interested in performing trials. To find out how your company could profit from SPIC Facilities, check out the SPIC website for information and contact details.