Want to know more about this article?
With production sites in Emmen, Arnhem and Delfzijl, Teijin Aramid is living up to its ambitions. The carbon footprint of Twaron®, a super-strong fiber, is 28% lower compared to 2014. This is shown in a recently conducted Life Cycle Analysis (LCA).
Twaron® is a fiber with inherently sustainable properties. It is renowned for its strength, sustainability, safety, heat resistance and low weight. It is used in a variety of markets and segments, including automotive, safety and life protection, aerospace and a wide range of industrial applications. The carbon footprint reduction is the result of years of focus on sustainability, process improvements and the transition to 100% renewable electricity.
For Teijin's customers, this carbon footprint improvement means that the ecological footprint of their products improves even further. With the update of the Twaron® eco-profile, up-to-date insight into the carbon footprint of Twaron® products is immediately provided (*).
Improved eco-profile Twaron®
Average Twaron® Yarn (incl. converted yarn): Climate Change is 8.7 kg CO2-eq/kg
Average Twaron® Pulp (HC and LC):Climate Change is 8.8 kg CO2-eq/kg
Ecological benefit in the chain
Teijin Aramid has developed a globally applicable Customer Benefit Model which customers can use to calculate the carbon footprint of their end products. This is a TÜV-certified calculation model in which, together with customers and supply chain partners, the financial and ecological benefits of using Twaron® are independently calculated.
Peter ter Horst, CEO Teijin Aramid: "Through the use of Twaron®, the end product inherently becomes more sustainable because it lasts longer and is lighter."
100% green electricity from European wind
To reinforce its ambition towards a zero footprint, Teijin Aramid has purchased Guarantees of Origin (GOs). These GOs are part of the European Energy Certificate System (EECS). With the purchase of these GOs for European Wind, Teijin Aramid covers 100% of the total expected electricity consumption of the Dutch production sites for 2021.
"We are convinced that we are on the right path to a zero footprint by 2050. By consuming less energy, investing in green energy and recycling more, we will directly contribute to a better world for future generations." says Peter ter Horst
Recycling of aramids through collaboration
For decades, Teijin Aramid has been recycling Twaron®. Currently, significant investments are being made into pilots to expand physical, chemical and mechanical recycling. Teams from Delfzijl, Emmen and Arnhem are working together closely to refine the technology to achieve the most efficient forms of recycling. Initial laboratory trials have been promising and it is now time to scale up to larger trials.
The ambition is to recover even more material from the market to avoid incineration and landfill of waste containing aramid. Advanced recycling techniques allow the raw material to be reused, which further reduces the carbon footprint substantially over time.
Every kilo of recycled aramid saves about 4 kg of CO2 in pulp production. Teijin is committed to closing the circle with new logistical partnerships to recover even more material from the market.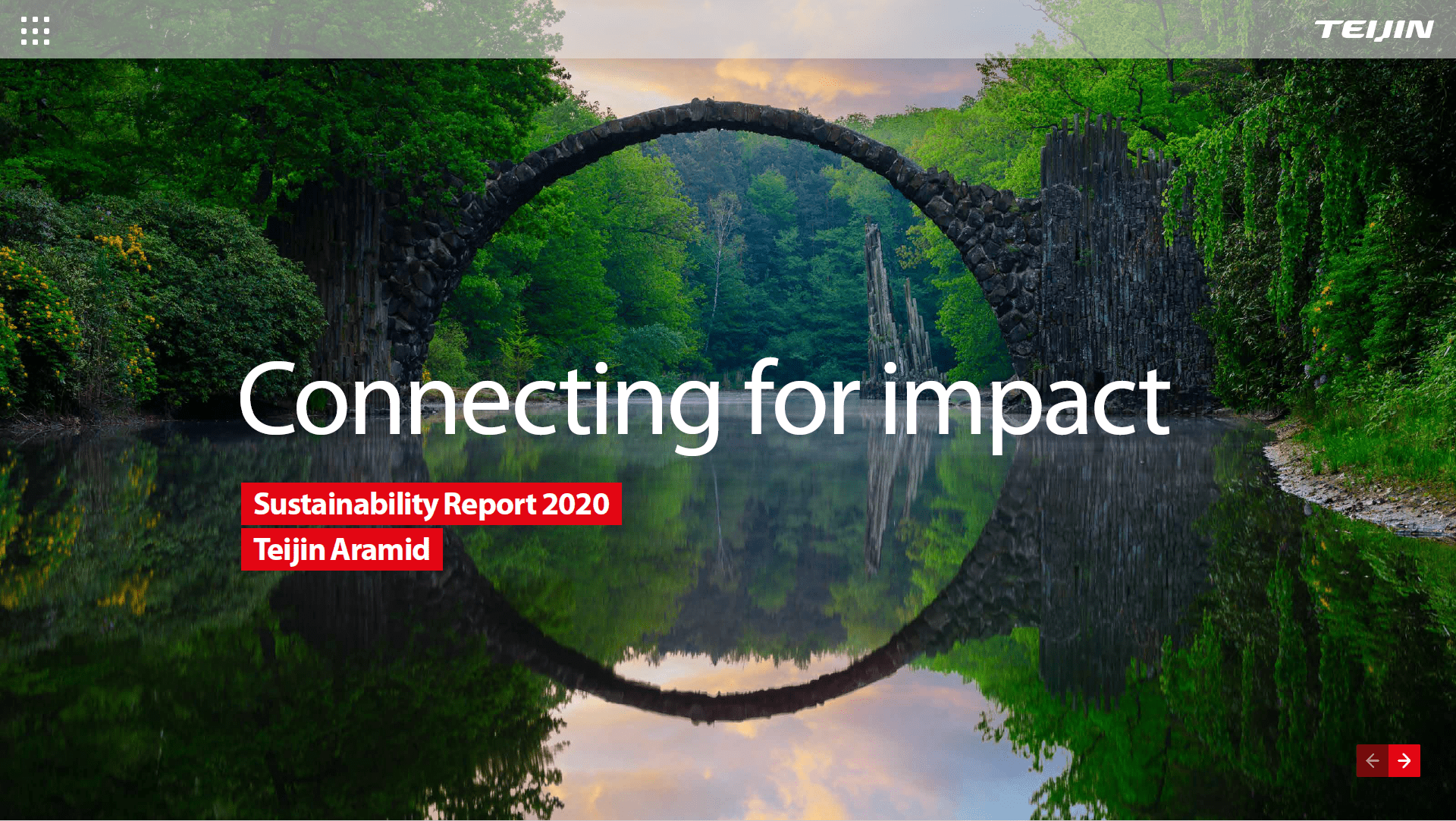 (*) The EU product environmental footprint (PEF) version 2.0 environmental impact categories are used to determine the Climate change impact. The LCA study has been externally reviewed and conducted according to the applicable ISO standards 14040 and 14044, the scope of the LCA is cradle-to-factory-gate.