Want to know more about this article?
Senbis Polymer Innovations B.V. in Emmen, the Netherlands, now has a brand-new flexible pilot-plant for mono- and multifilament yarns in operation. The flexibility this new pilot plant offers is unprecedented in Europe and paves the way for a wide range of sustainable innovations and applications, such as polymer research. Through its subsiduary SPIC Facilities BV, this state-of-the art equipment is available for test- and production runs by other organisations.
In 2020, Senbis initiated an investment program of €5.5 million through its subsidiary SPIC Facilities B.V. ​​This new pilot plant is the heart of the investment program and brings new and unique opportunities for the development of sustainable plastics in the Chemport Europe Region, and the perfect addition to the Green Chemistry goals and ambitions of the region.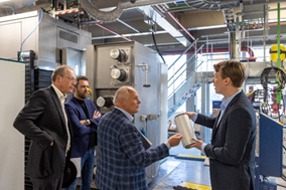 Polymers testing facility unique in Europe
The plant was custom made for SPIC by Fibre Extrusion Technology Limited (FET). FET is a bespoke extrusion equipment supplier in Leeds, UK and machine manufacturer KraussMaffei, based in Munich, Germany. But what makes it unique in Europe, is its versatility and flexibility, both in terms of production scale and applications. 
The versatility of different polymers and processes that can be used and produced, combined with a scale ranging up to 50 kg/h is unprecedented. And it offers a huge opportunity to bring research developments of sustainable plastics, yarns and fibers to the next stage.
Applications
Both mono- and bicomponent yarns can be produced on the machine, for example. Thanks to the new equipment, along with extensive processing and laboratory facilities, Senbis can now look into more challenging applications. Think of marine or in-soil biodegradable yarns, filaments and textiles. For example in the fishing industry, to replace the plastics used in dolly ropes for fishnets or the cotton used in mussel socks. The possible applications are numerous, from the agricultural sector to clothes and sports gear.
Collaborations
SPIC is also making this brand-new pilot plant and all its state-of-the art equipment available to the market for research and test runs, and Senbis can assist your company with R&D support. They're looking to collaborate with companies on research projects, for example. But also with brands and companies looking to market new and sustainable products or wanting to test new ideas.