Want to know more about this article?
Back to overview
Plantics and Vepa win "Renewable material of the Year 2021" award
A seat shell for chairs and bar stools, made using bio-resin and hemp fibres, has won the international innovation award "Renewable material of the Year 2021" at the Renewable Materials Conference 2021. This heralds an era of CO2 negative materials.
The award was announced at the Renewable Materials Conference 2021. The three day conference attracted 416 participants from 31 countries, and was organized by the German Nova-Institute, which aims to support the transition to a climate neutral future. The prize was sponsored by polymer producer Covestro.
'This is the Champions League of renewable carbon, it is a great honour to have won this prize', says Plantics' CEO Wridzer Bakker.
'This fully recyclable and carbon-negative material is just one of the materials developed by Plantics. We want to solve the plastic waste problem and take CO2 from the atmosphere.'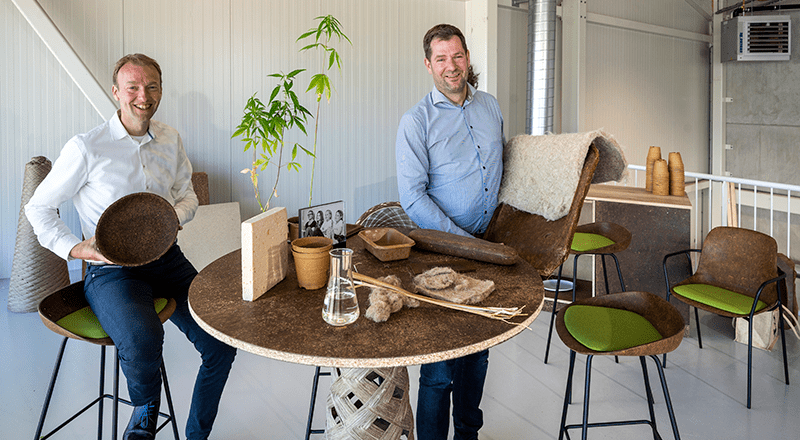 Renewable material revolution
Plantics is based in Arhem and develops new, completely circular biobased composites, foams, and coatings. They are based on an invention by the University of Amsterdam, that resulted in a unique new family of thermoset bio-resins and materials.
'Existing resins often contain toxic components, like formaldehyde. And they are fossil oil-based. The beauty of our resin is that it is a universal solution to transform oil-based materials into circular biobased materials.' It is made from widely available ingredients, produced out of waste material from plants.
Partner with Vepa furniture company
The chair seats are made from hemp, a product that grows without any fertilizers or pesticides in the Chemport region (north of the Netherlands). 'We produce hemp fibre mats impregnated with the thermoset bio-resins. Our partner, the furniture manufacturer Vepa from Hoogeveen, presses these mats into seat shells.' These shells are an alternative for plastics, and the entire production chain is carbon negative.
Bakker: 'Reducing carbon emissions is not enough. We need to remove it from the atmosphere.'
Joint product development
To reach their aim of CO2 removal, Plantics joins forces with several partners. 'We are a materials company. Others must turn them into products. To that end, we create joint teams with industrial partners to develop such a product.' Plantics takes it through the first steps, up to the pilot production stage. 'Then, the partner takes over, but we stay involved in the further developments of these products.'
The Vepa chairs and bar stools are now being produced commercially. Meanwhile, market feedback is used in our joint development team to take the shells to an even higher level.
Connected by Chemport
This first success is the result of contacts in the Chemport Europe region. 'I met up with Chemport business developer Errit Bekkering. He heard what we had to offer, and put me in touch with Vepa.' At the moment, there are several other projects in the pipeline, from plant pots to wood fibreboards. 'We are interested in producing negative carbon building materials, as the building industry is one of the worlds big carbon emitters.'
Production expansion
Plantics is expanding, they are currently building a new factory to produce impregnated hemp mats in Arnhem. Winning the prize for the Renewable Material of the Year gives Plantics a further boost, it has already led to an increased interest. 'There are a lot of innovators who claim they have developed something special, but it is hard for companies to assess this. This prize is an independent confirmation that our products are indeed special.'