Want to know more about this article?
On November 18th 2020, you are welcome to join the online event. We will discuss the opportunities for both science and business, and how we can boost success in the Northern Netherlands.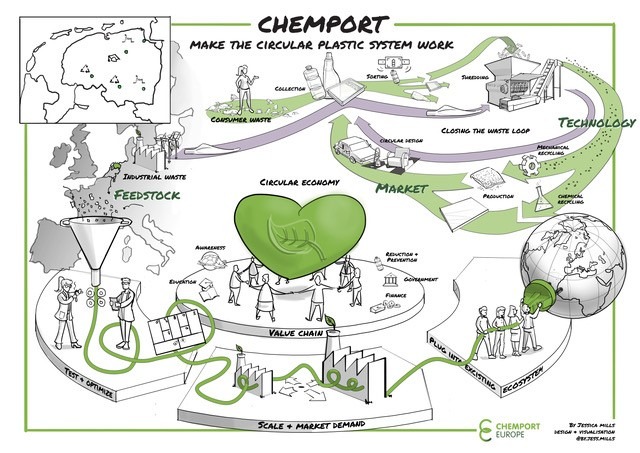 Join us to make the circular plastic system work!
In the Northern Netherlands, there is a lot of activity and entrepreneurship to close the polymer cycle. This is supported by in-depth expertise on polymer synthesis and production, recycling, re-use, and marketing & sales. At various locations in the Northern Netherlands, companies are working to recover polymers from household waste, and recycle them via thermal, mechanical and chemical recycling. The opportunities for both science and business are huge.
How can we boost success? By teaming up to close the cycle, by joining forces.
With a number of organisations – under the working title 'Het Schone Noorden' – we have set an ambition to become the expert Ecosystem for Circular Plastics in Europe. On November 18th, we like to present the initiative, and to discuss with you:
How to further expand the current ecosystem
How to achieve 100% circular chains
How to better position our ecosystem
How you can join the initiative
Do you want to benefit from this initiative? You are welcome to join us on November 18th!
The program
9:00 – 9:15 
Introduction to the Circular Polymer initiative and the related proposition 
Cor Kamminga (Ecoras, Chemport Europe)
9:15 – 9:55
Key note: trends in biobased products and circularity in the next 10 years
Pia Skoczinski en Michael Carusm (Nova Institute)
10:00 – 10:30
Effective cooperation in the circular polymer chain between business, knowledge institutes and government
Erwin van Maanen (Nedcam), Marco Brons (Cumapol),
Katja Loos (RUG) and Hedwig Rinkes (councilor Heerenveen)
10:45 – 11:45
Interactive session with project pitches.
Rob Hamer (Hademar)
11:45 – 12:00
Wrap up
John Vernooij (Omrin)