Want to know more about this article?
Senbis Polymer Innovations in Emmen has started producing compostable PLA based yarn for use in horticulture, in partnership with Morssinkhof Sustainble Products, which provides the production facilities.
In January, Senbis successfully produced 20 tons of PLA yarn in a final test run. 'After developing the production process, first on lab scale and later in our pilot plant, we started test runs on industrial scale machines in June of last year', explains managing director Gerard Nijhoving. The biggest challenge is to reduce production losses, as PLA is relatively expensive.
Small polymer filaments are produced via an extruder, which are bundeled into a yarn. After drawing and cooling, this is wound on bobbins. Nijhoving: 'The quality of the yarn was excellent, with high tenacity values. However, the filaments are sensitive to breaks. If that happens, everything coming from the extruder goes to a waste stream until the yarn is newly spun in the drawing frame and winder to be neatly collected on bobbins.' During the last test run, the efficiency was still not at the rates that we are used to for industrial polyester yarn production, but close enough to start commercial production.
Horticulture
The PLA yarn will first be marketed in horticulture. 'It is very suitable for use in applications where the product ends up in organic wastes, as the yarn is biodegradable in industrial compost installations.' The farmers pay lower rates for the disposal of this waste, which makes it economically viable. And the PLA yarn could also be an attractive option in agriculture. 'We are currently looking for new applications, for example in hop farms. At the moment, they mostly use steel wires to support the hop plants.'
Apart from being compostable and 100% biobased, twines from Senbis PLA yarns have the an added advantage that the strength is better then other PLA twines (ropes). 'There are already some PLA twines on the market, but those are made from cuttape, says Nijhoving. 'These twines are not as strong as our solution and therefore need to increase the thickness to match the performance of our product.'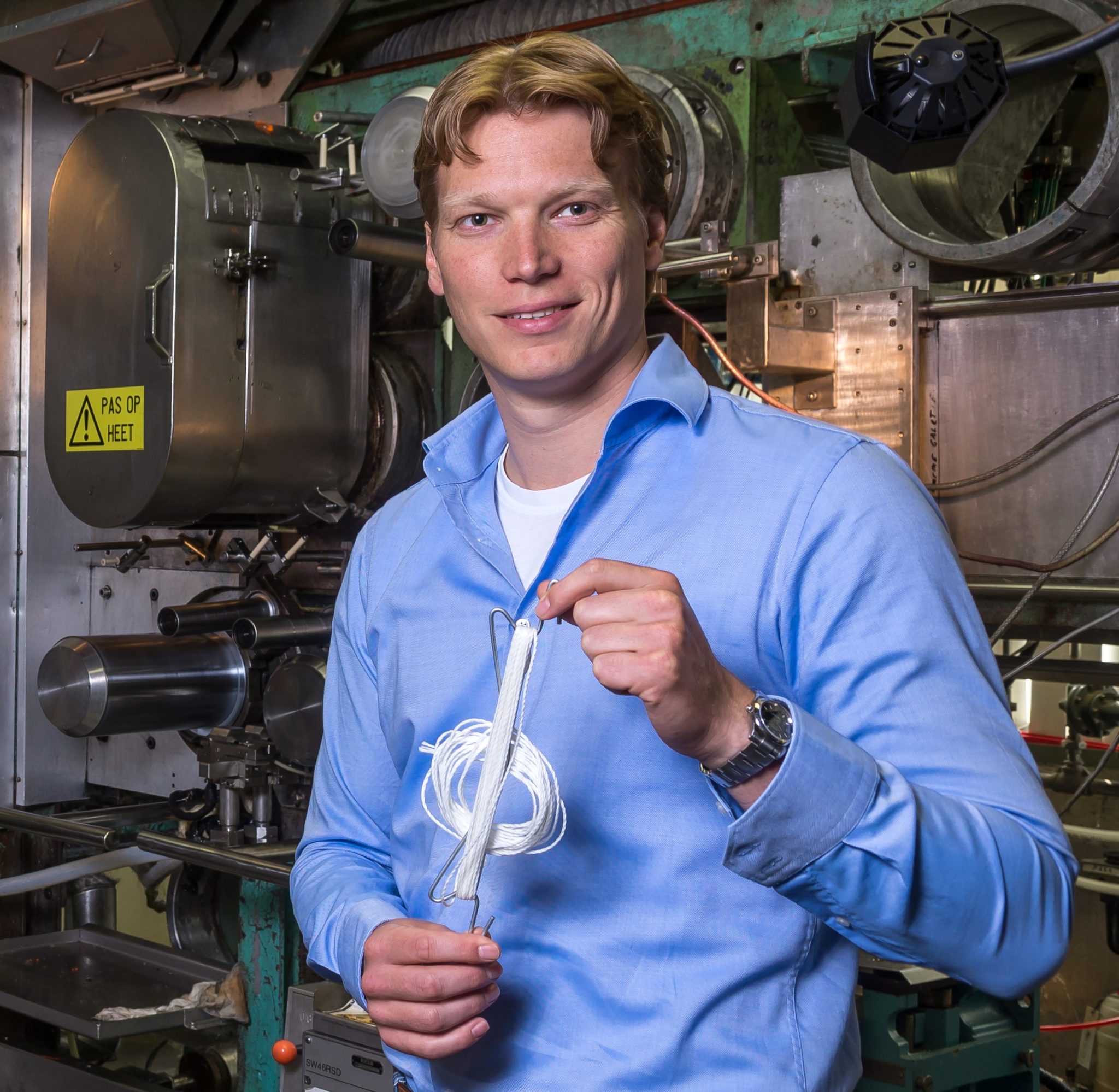 Senbis
Production of the new PLA yarn is the result of the spin-off strategy of Senbis, says Nijhoving: 'We have always been first and a R&D service provider, not a product manufacturer.' However, the company has founded a production spin-off before: BASF 3D Printing Solutions BV, a producer of biobased 3D printing filaments which was recently acquired by BASF. 'our vision is to increase our portfolio of products by creating more spin-off activities'
The location of Senbis at the Chemical Cluster Emmen, in the buildings of the former Akzo plant, helps to up-scalefrom R&D to production. Senbis acquired a large part of the Akzo research labs, while partners like Morssinkhof owns production facilities. 'The spinning pilot plant has the same configuration as the production machines of Morssinkhof, which makes it easier to move from the bench to commercial production.'