Want to know more about this article?
The Northern Netherlands has a strong ecosystem aimed at ecological strengthening of the chemical industry. Cooperation in the chain is key. The chemical cluster in Delfzijl is focused on intermediate chemicals while the cluster in Emmen is concentrated around polymers. They are the pioneers, together with the knowledge cluster at Campus Groningen with the University of Groningen and the Hanze University of Applied Sciences. Add to this the National Test centre for Circular Plastics in Heerenveen and the circle is quite literally complete. And all this within the Chemport Europe ecosystem.
The chemical industry is an important mainstay of the economy in the Northern Netherlands. The environmental targets and the call for ecological strengthening require a new direction, with ample opportunities for bio-materials, raw materials and recycling. The Chemport Europe ecosystem is developing rapidly in that sense. One of the chains on which there is great focus is that of circular plastics. Circularity begins where plastic ends, and the circle has indeed formed around plastics in the Northern Netherlands.
Chain cooperation
Mark-Olof Dirksen of Philips in Drachten explains how the idea to use recycled plastic in the production of household appliances came about, six years ago. "As far as we're concerned, it's essential that the raw materials are very pure and that we have freedom of colour. Those were our two criteria: availability and colour. And so we needed to find regional partners to meet our requirements."
Waste processors are on the eve of a new cycle. A consortium of Philips, waste processor Omrin, plastics producer Morssinkhof and NHL/Stenden University of Applied Sciences joined forces for the reuse of polypropylene (PP) as a quality raw material for recycled plastic.
"The 'target' project was a Senseo coffee maker," Dirksen continues. "Over the first two years, we concentrated on the specifications and an inventory of what was required to convert waste into a polypropylene suitable for the production of components that met our qualifications." The project was so successful that Morssinkhof built a plastics recycling plant in the vicinity of Omrin, in order that we could upscale the production of what we had previously tested on a smaller scale. By 2025, Philips wants to have 20% of all household product components made from recycled plastic."
"You simply can't set up this type of system independently as a company," Dirksen emphasises. "You need subsidisation for the research phase and the chain cooperation. The province of Friesland has a cradle-to-cradle approach in its environmental policy plan. Together with the province and the Dutch Waste materials council, we were able to initiate this project."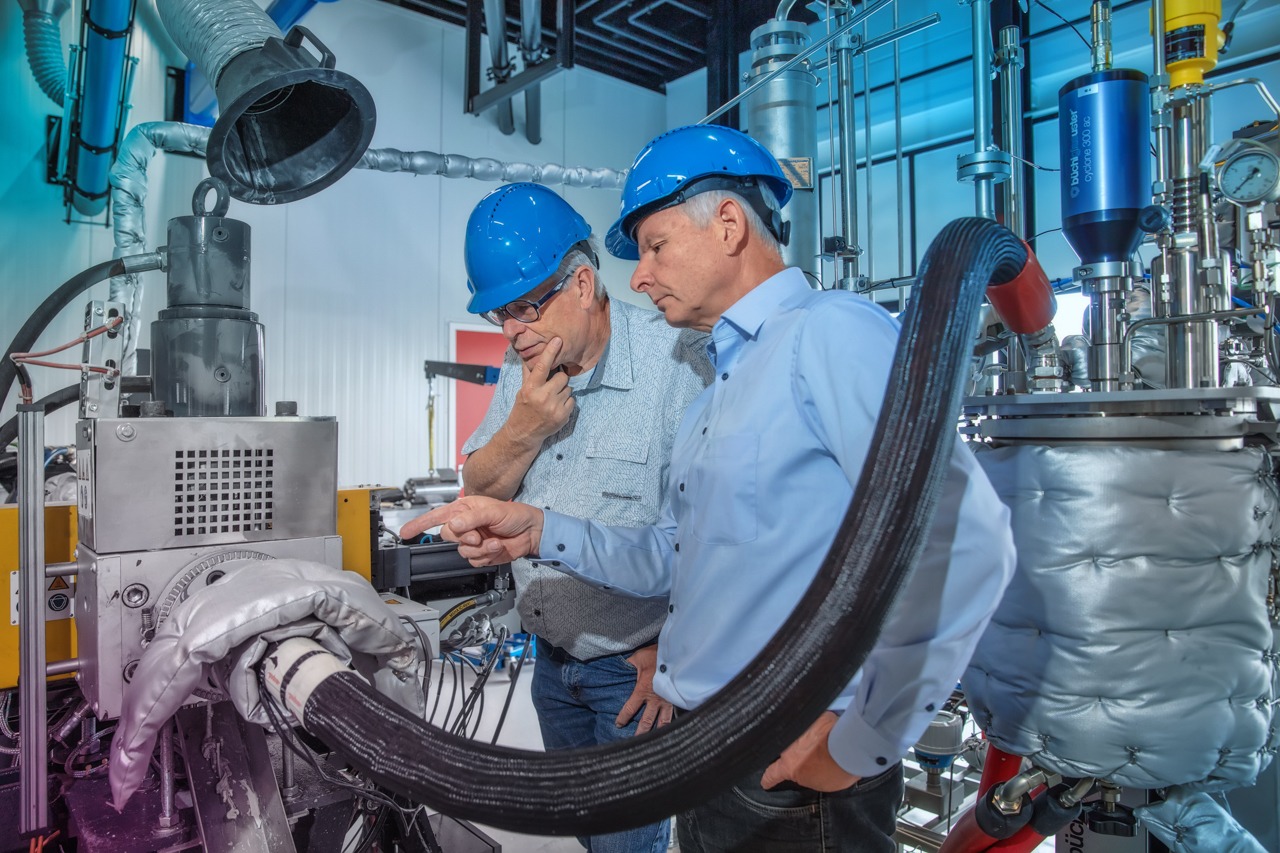 Two worlds apart
Errit Bekkering is involved in the development of projects, on behalf of NOM, the Investment and Development company for the Northern Netherlands. "A great deal is possible from a technical point of view, but the switch to the circular economy is a challenge because it takes place as a chain. You need to agree on who does what, and also to reach agreements on the distribution of the market. To begin with, you need to determine jointly whether there is sufficient market to be shared. It isn't until a later stage that you need to actually divide it up. That's completely different to simply calling a producer to enquire about the price."
"Waste processing and the production industry are two worlds very far apart. It takes time to bring them together. Cooperation, proximity and trust all helped us to put these processes in motion. And so the Northern Netherlands really has been able to build up a head start. The opening of the National Test centre for Circular Plastics is unique," says Bekkering. He continues: "Top-down measures allow you to accelerate change. The development of circular components takes time. It's a lengthy start-up process. These are all individual companies that need to take action."
An important reason for the NOM to support initiatives such as the construction of the new Morssinkhof factory for polypropylene on the site of the Omrin waste processor, is that the chemical industry is required to be CO2 neutral by 2050, explains Bekkering. "A number of things are needed to achieve that, including green raw materials, but also the recycling of raw materials."
Strong sector
"The chemical sector is strongly represented in the Northern Netherlands. And we aim to keep it that way. We are therefore ensuring that we keep our head start in that field. The process industry is an important discipline in the Northern Netherlands," says Bekkering. Another important motivation to support the circular economy is that it is initiated by companies. "Companies are looking to increase sustainability and improve their ecological footprint.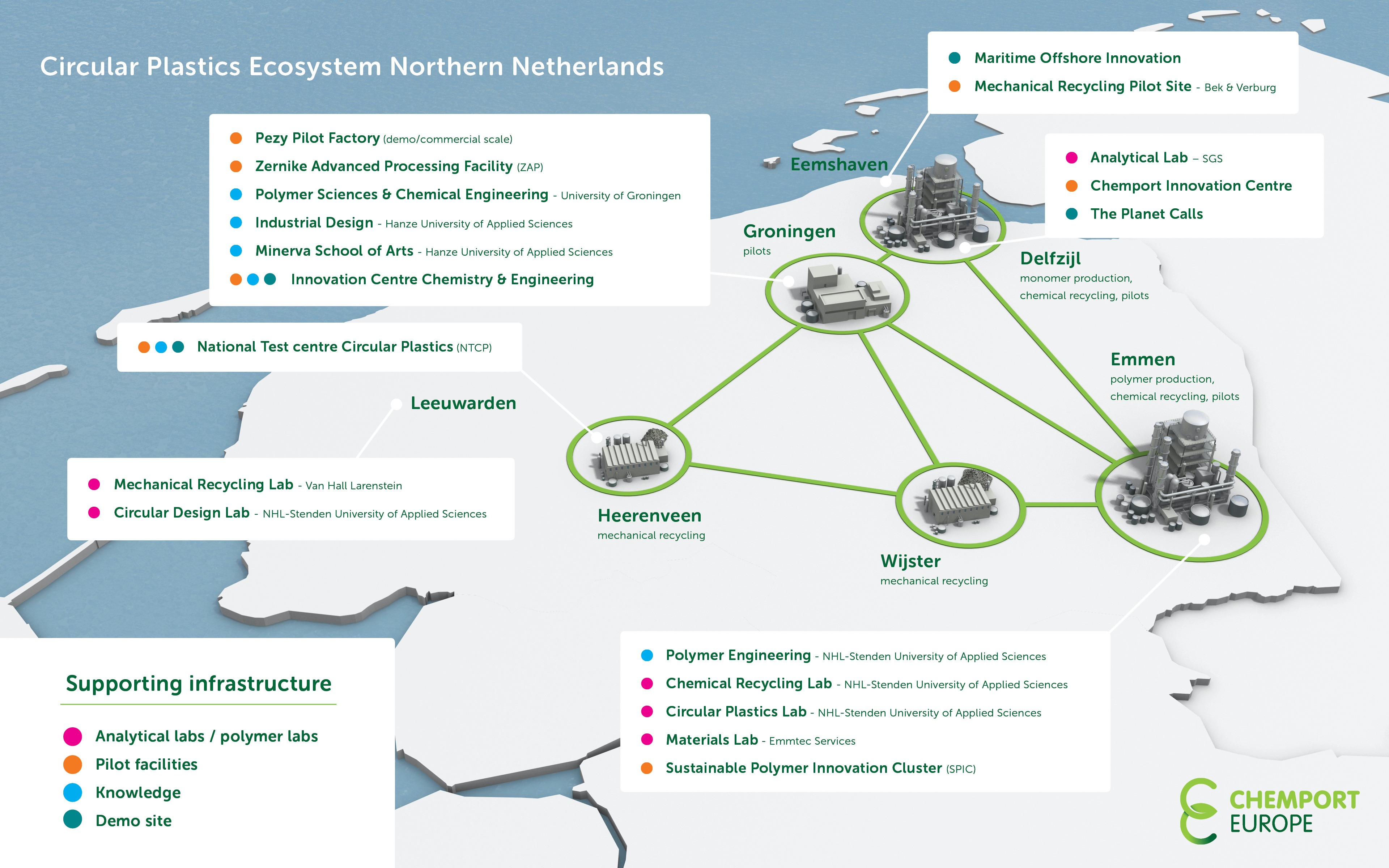 Coming together for cooperation
Although we live in a digital age with cooperation between researchers and companies on a global scale, studies have shown that the physical proximity of talent, research institutes and companies contributes to the sharing of knowledge. Organisations coming together leads to innovation and the introduction of fundamental and applied research in the market. Effective facilities stimulate companies to share their knowledge and to innovate, also when it comes to increasing sustainability. "The Chemistry and Engineering innovation centre at Campus Groningen is one such facility, which focuses on bringing parties together. A location where start-ups cooperate with companies to develop new products. Companies such as MercachemSyncom, Ducom, Demcon and Cliqswiss have found themselves a home in this central hub precisely for that reason. This process of coming together is so important, because together we can find solutions to social challenges that benefit everyone", explains Edward van der Meer of Campus Groningen.
Component of the ecosystem
"Tackling major social issues is very much in keeping with the ambition and strategy of the University of Groningen," according to Erik Heeres, Professor in applied chemistry at the University of Groningen. "We are looking not only to bundle knowledge institutes but also to be a part of the Chemport Europe ecosystem by collaborating with companies and government bodies in the Northern Netherlands. Take the plastics chain and recycling for example, for which we have found the ideal combination of chain partners in the Northern Netherlands. Of course, we mustn't forget that our government here in the North is actively focused on increased sustainability and rendering the economy circular. There are so many opportunities."
Bekkering could not agree more: "We are on the eve of a breakthrough. There is a definite shift towards retaining raw materials within the system. In the years to come, we shall all be investing considerably in realising that circular plastics chain in the Northern Netherlands."