Want to know more about this article?
Developing alternative biodegradable plastics that degrade in the natural environment and the water; this is Senbis's mission. From fishing tackle to artificial turf. Apparently, sometimes it is easier to break down oil-based plastics than those made from biomass. The holy grail is a good biodegradable replacement for polyester in clothing, as this is a major contributor to ocean pollution. This article is originally published by Change inc.
Senbis Polymer Innovations is a leading European innovator in biodegradable plastics. The company's biodegradable fibres and plastics are suitable for use in many different applications. These range from nets and lines for mussel farms and fisheries, to rope and twine for agriculture, horticulture and landscaping, to artificial turf. "We aim to make an impact by identifying plastics that are most likely to end up in the environment. Then we come up with biodegradable replacements," says managing director Gerard Nijhoving.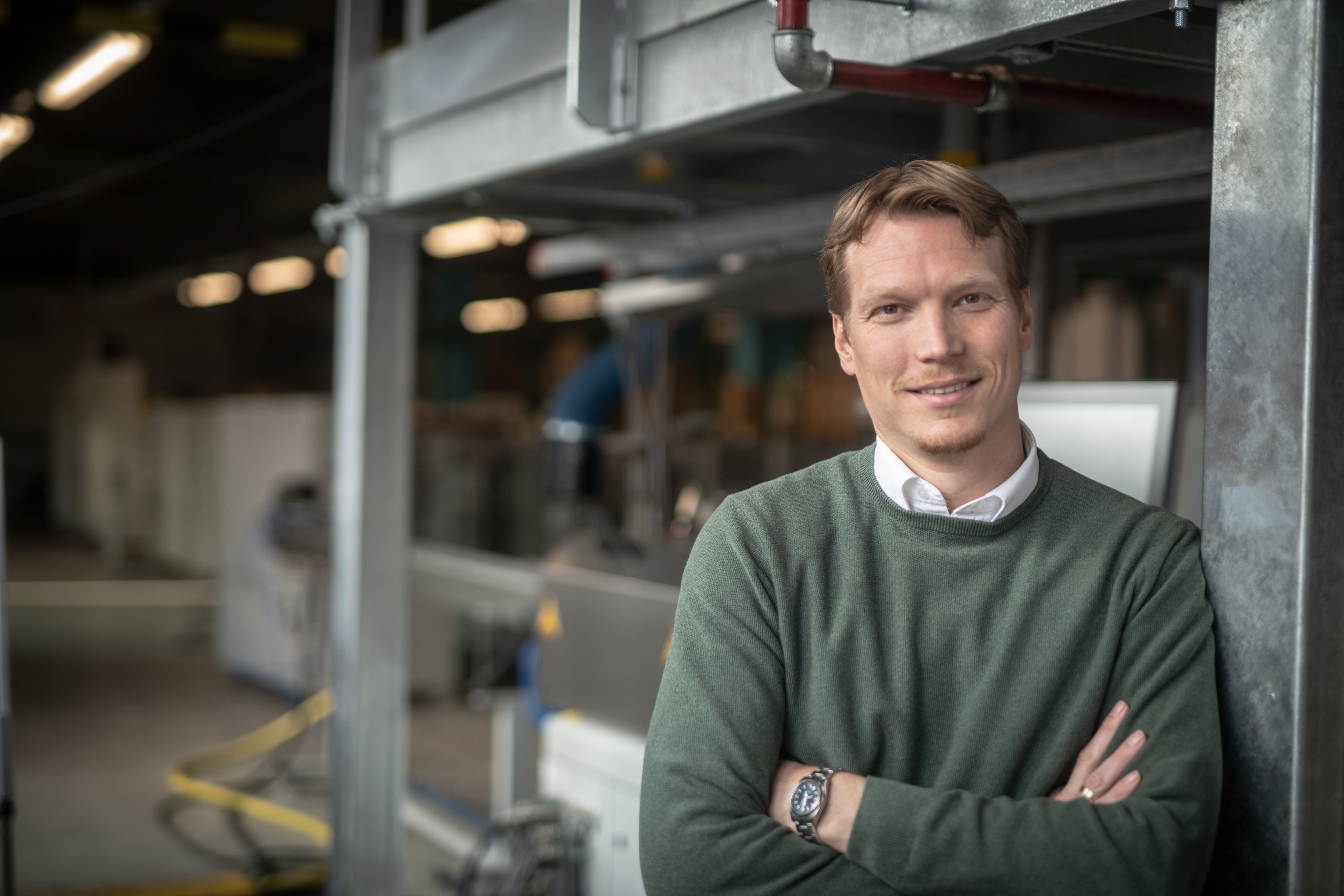 Microplastics in the human body
This risk is mainly present for textiles, in agriculture, fisheries, landscaping and sports. Partly due to these industries' activities, nine billion tonnes of plastic end up in our natural environment and oceans each year. Microplastics have even been discovered in freshly fallen Antarctic snow and in the human body. Researchers in Ghent have calculated that on average, people ingest 11,000 microplastic particles annually when they consume fish and other seafood. And that is apart from all the other animals being poisoned or strangled by plastic.
Former Akzo Nobel R&D department
Senbis is actually the continuation of an Akzo Nobel department for yarn and fibre R&D. The company concentrates mainly on the development of more sustainable plastics (polymers). "We aim to offer an answer to microplastics pollution," says Nijhoving. "We do a lot of research into new types of bioplastics. To that end, we have our own facilities and people with a great deal of relevant knowledge. Thanks to our background, facilities and partnerships with major companies, we offer the experience of a multinational and the flexibility of a start-up. Our customers also include quite a few multinationals. We design solutions for them."
No own factory
Senbis is a real technology company, supporting other businesses in the plastics industry with their product development. It also invests in the development of its own biodegradable polymers. The company has a fully equipped R&D polymer laboratory and testing facilities with all the necessary equipment, but does not have a large factory or production lines itself. Instead, it collaborates with other companies, including in the Emmen area. Senbis Polymer Innovations BV handles the R&D and since 2021, Senbis Sustainable Products BV is responsible for marketing the newly developed products.
"We do not have the ambition to do any large-scale manufacturing ourselves and prefer to work with partners who can produce larger volumes and handle the sales and distribution aspects. Plants that also make conventional plastics, for instance. We stick to what we do best: R&D and innovation," Nijhoving explains.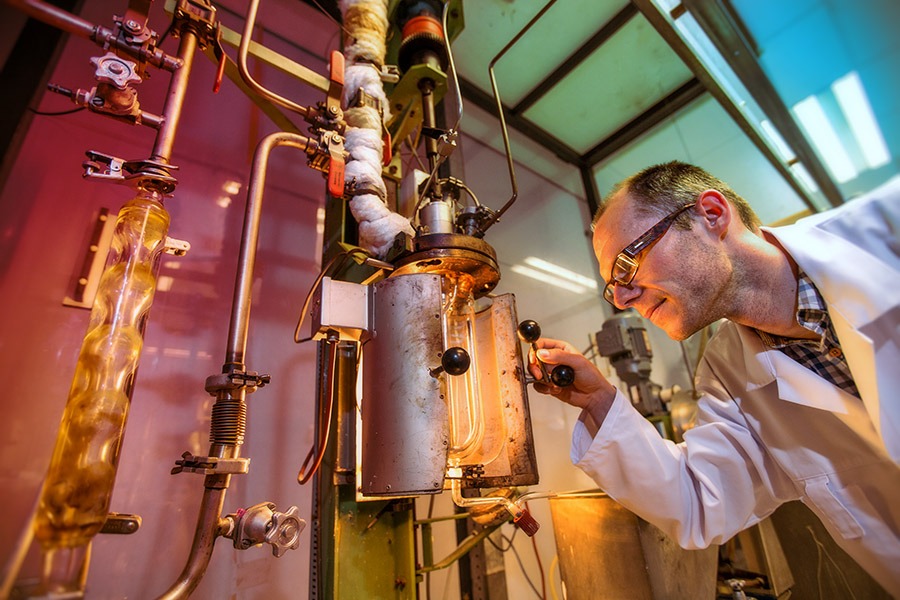 Biodegradability is key
Senbis mainly researches the biodegradability of new products. The company starts by investigating the environment in which a product will be used. "That is where it needs to decompose and we look at how fast this happens," Nijhoving explains. "In the natural environment or the ocean, this should be as fast as possible, of course. However, sometimes you cannot ask too much of biodegradable plastics. It matters whether a product's work will be done in a day or whether it needs to stay in use for a decade."
"In a natural environment, bioplastics are broken down by fungi and bacteria. There is much more organic activity to be found in a compost heap than under the ground or in the water. At the bottom of the ocean, there is actually barely any organic activity at all. For the fishing industry, we need to create polymers that are both strong and quick to decompose. That is a challenge, and can involve difficult choices."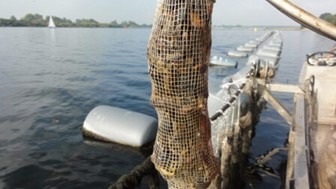 Alternative to dolly rope
Senbis came up with a similar solution for dolly rope, the blue or orange plastic rope used to protect bottom-trawling nets. According to research by engineering firm Tauw, half of this plastic ends up in the sea due to wear and tear and maintenance. In the Dutch North Sea, that adds up to between 50 and 100 tonnes of dolly rope annually. The rope is made of polyethylene and does not break down in sea water. Instead, it washes up onto beaches, where it entangles birds and other sea life. It is actually the most commonly found type of waste along Dutch coastlines.
Senbis began working on the development of a marine-degradable alternative six years ago and got five fishers to test it in 2020. "It is currently too expensive for fisheries to be interested. They won't start using it until the government comes up with new rules or subsidies. A general prohibition will go into force in 2027, but we want to arrange some much larger pilots before then," says Nijhoving. "Decomposition takes at least a few months and meanwhile, the rope can still wash ashore. It won't simply disappear. It's not magic, it's chemistry and biology. The process needs time."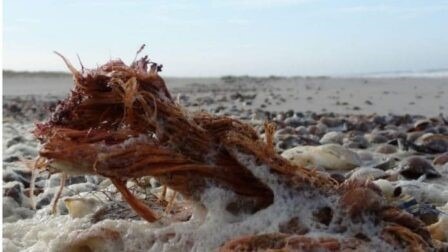 Preventing microplastics in gardens
Senbis is also hard at work on biodegradable bioplastics for use in agriculture, horticulture and landscaping. Compostable hay baler twine, for example, which is still under development. Also, compostable twine for the cultivation of greenhouse tomatoes, cucumbers and bell peppers and hops for beer brewing.
This year the company also introduced a biodegradable trimmer wire, GreenLine. String trimmers are used by municipalities, gardeners and home-owners around the world to cut grass and plants near objects or in areas that are steep or otherwise difficult to mow. Trimmer wire is usually made of nylon and often ends up hacked into small pieces during use. "That means we are constantly distributing thousands of tonnes of microplastic particles throughout our parks and gardens. Those will be around for another millennium at least," says Nijhoving.
World's first biodegradable artificial turf
The company also takes an interest in sports and leisure. It has developed GreenFill, biodegradable infill pellets for synthetic turf sports fields, and even actual biodegradable artificial turf. This helps keep microplastics out of the environment. On 20 September at EHS'85 in Emmen, the world's first biodegradable synthetic turf sports field was put into commission. The turf is called GreenBlade and was developed by Senbis together with partners such as Ten Cate Grass, EdelGrass, Antea Sport and Sweco on behalf of the Dutch Ministry of Health, Welfare and Sport. The field is created entirely from biodegradable materials and uses GreenFill pellets for the infill.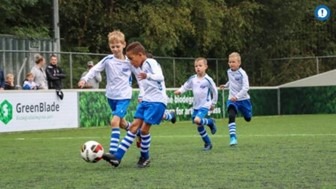 Biodegradable versus renewable
Senbis makes its bioplastics from raw materials that can be either renewable, such as biomass, or biodegradable. These are not always the same thing. Nijhoving: "You can create conventional plastics such as polyethylene entirely from sugar cane, though they don't degrade very well yet, and you can also make fully degradable plastics using crude oil. Sometimes you have to choose one over the other: biobased or biodegradable. For anything that ends up in the environment, we prioritise biodegradability. Biobased is intended to reduce carbon emissions."
Alternative to polyester in clothing
Before Senbis starts developing a new product, it first defines a goal and determines whether there is actually a market. "We won't be developing any alternatives for PET bottles, for example. That's because there is already a good system in place for their collection and recycling," says Nijhoving. The company does want to find a suitable alternative for polyester in textiles. 75 million tonnes of this plastic get produced annually, of which the vast majority ends up being used in clothing.
When clothes are washed or worn, polyester microfibres enter the environment and ultimately, our oceans. Nijhoving: "It is a significant issue. Microplastics even end up in our blood through the foods we eat and drink. The associated health risks are still unknown. However, as an example, we do know that microplastics and poisonous substances in plastics have caused fertility problems in orcas and that this is an important threat to their survival."
Holy grail
Due to the large volumes of microplastics resulting from textiles, Senbis now wants to develop a biodegradable alternative for polyester in clothing. "It is our holy grail," says Nijhoving. "To have a noticeable impact, millions of tonnes of this alternative material will need to be produced per year. For that reason, once we have the technology, we intend to license it to the gigantic, mainly Asian, factories that make all the polyester."