Want to know more about this article?
Back to overview
BioBTX and Teijin are looking at sustainable feedstock for super fiber
The Japanese company, Teijin Aramid, and the Dutch BioBTX are working on a synthetic fiber made entirely of sustainable materials. The initiative that is about to start is financially supported by the provinces of Drenthe and Groningen and by Chemport Europe.
Teijin Aramid has production facilities in Emmen and Delfzijl. The initiative contributes to making the industry greener. It also strengthens the position of the Northern Netherlands chemical cluster, also known as Chemport Europe.
Teijin Aramid produces super strong fibers in the Netherlands under the brand name Twaron®. In the Netherlands, the company has facilities in, among others, Delfzijl and Emmen. Their fibers are used worldwide in products that need to be made stronger, lighter, and more durable. For example, in car tires, light freight containers, and protective clothing. To produce Twaron® fossil resources are used for which there are currently no sustainable alternatives.
Site Manager, Edward Groen, from Teijin Aramid in Delfzijl explainsthat his company wants to examine the possibility of producing a so-called bio-based version of their Twaron®fiber. "Sustainability is an important subject for us. We are focused on both sustainability targets in the chain by using our products with a lighter weight and longer lifespan and reducing our CO2 footprint during production. Here we are looking at reducing energy flows and making them more sustainable. And we're also looking into the possibilities for greener raw materials. It's fantastic to be doing this scouting with a partner in Groningen."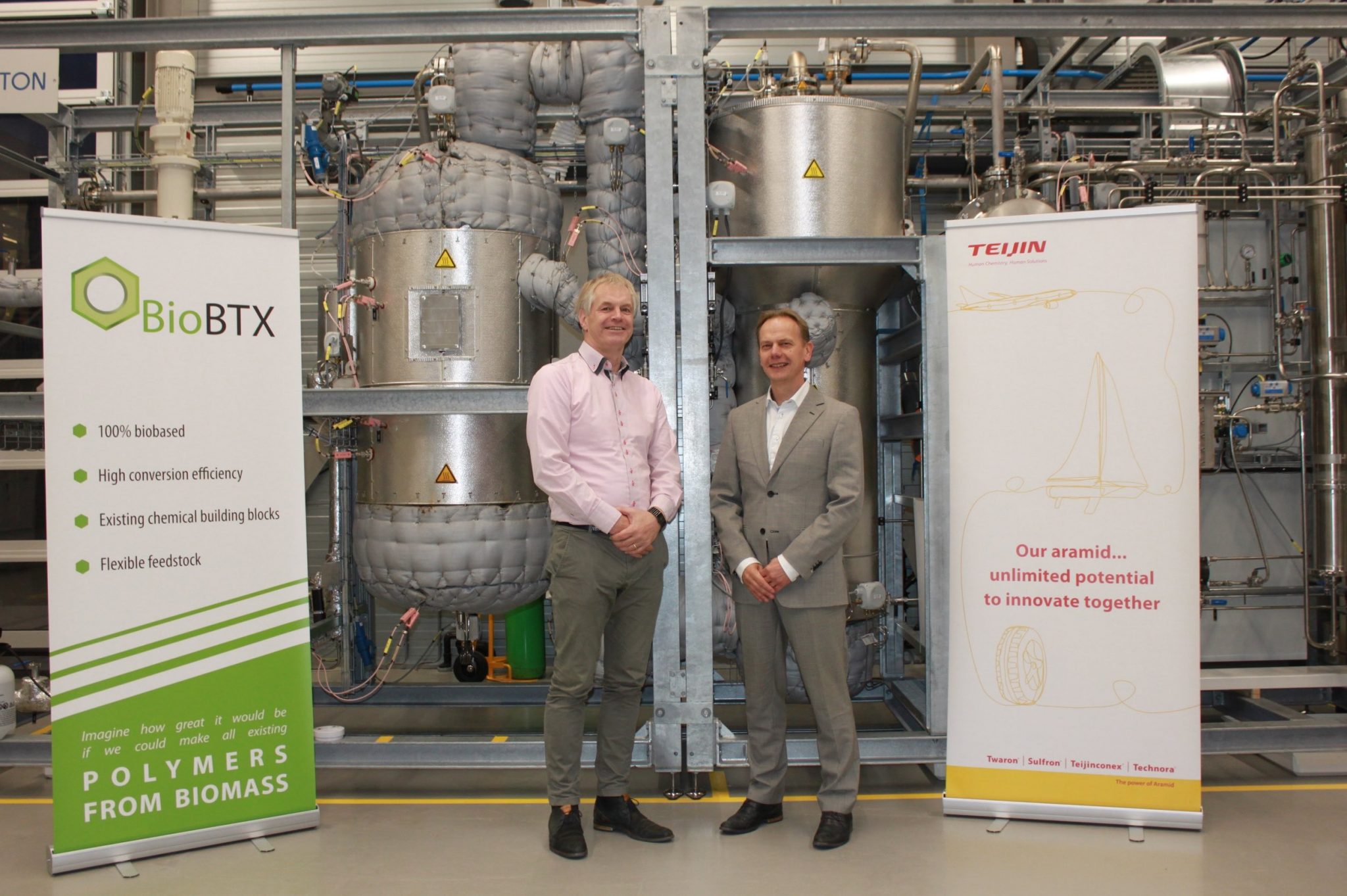 BioBTX
To develop a green feedstock Teijin Aramid works together with the company BioBTX in Groningen. This company developed a sustainable technology that can transform renewable resources, such as biomass and residual products, into chemical resources, mainly benzene, toluene, and xylene (BTX). With the BioBTX technology, it is possible to produce these so-called aromats in a sustainable manner and, thus, largely reduce CO2 emissions. BioBTX recently opened a pilot plant to produce aromats on the Zernike Campus in Groningen. Based on these aromats the chemical company Syncom will produce specific building blocks. The polymer and fibre will be made in the Research Center at Teijin Aramid in Arnhem, and based on the processes in Delfzijl and Emmen.
"We have already demonstrated that it is technically feasible to make bio-based BTX and polyester. Via this path and with the renowned Teijin Aramid, we want to demonstrate that it can also be used as a raw material for high-quality applications that have very strict quality requirements!", Pieter Imhof, CEO at BioBTX
Innovation and jobs
The delegates Henk Brink from Drenthe Province and Patrick Brouns from Groningen Province are very happy about this initiative. Brink says this is an nice innovation for the region. "Teijin Aramid is, of course, a world player with Twaron®. They have nearly 1,000 employees in the North alone. If this bio-variant is indeed successfully implemented, it will be a plus for the environment and for employment. This project is a first step in that direction." Brouns says he is excited about the associated job opportunities and increased sustainability. "We cannot keep turning a blind eye. Our climate is under pressure, and we all have to work together to reduce CO2 emissions. It is good to see that the chemical industry is taking responsibility for its part."