Want to know more about this article?
It all started with a dirty bicycle chain, some five years ago. John Borgesius came back from a bike ride with a chain blackened by dirt sticking to the chain oil. He showed it to his brother Goedhart. Both brothers knew about natural oils, they already owned a sales & business development company in vegetable oils, the Borgesius Group. So they challenged themselves to make a better chain oil, and one that was not fossil-based. This marked the start of a new company: the Airogroup.
The brothers cooked up a rapeseed-based chain oil blend using a blender and a microwave oven: 'It worked excellently, and this inspired us to realize a new high-tech production facility.' The brothers set themselves the task to use a minimum of 95 percent natural ingredients, all locally sourced. 'Our aim is to get up to 100 percent as soon as possible. And furthermore, our biodegradable products should be free of hazard labels and have at least the same quality as fossil oil-based products, at a competitive price.'
Demand for bio-based products
Market research and trend analyses had shown them that bio-based products were in demand. The Airogroup was founded to produce a product line, Airolube, which includes lubricants, degreasers, waxes and cleaners for bicycles and cars, but also lubricant cartridges for agricultural machines. They develop and produce their products in a brand new, 10,000 square meter production hall in Stadskanaal. In response to the COVID-19 pandemic, the Airogroup also launched Airomedics disinfectant spray and hand gel, based on natural ingredients.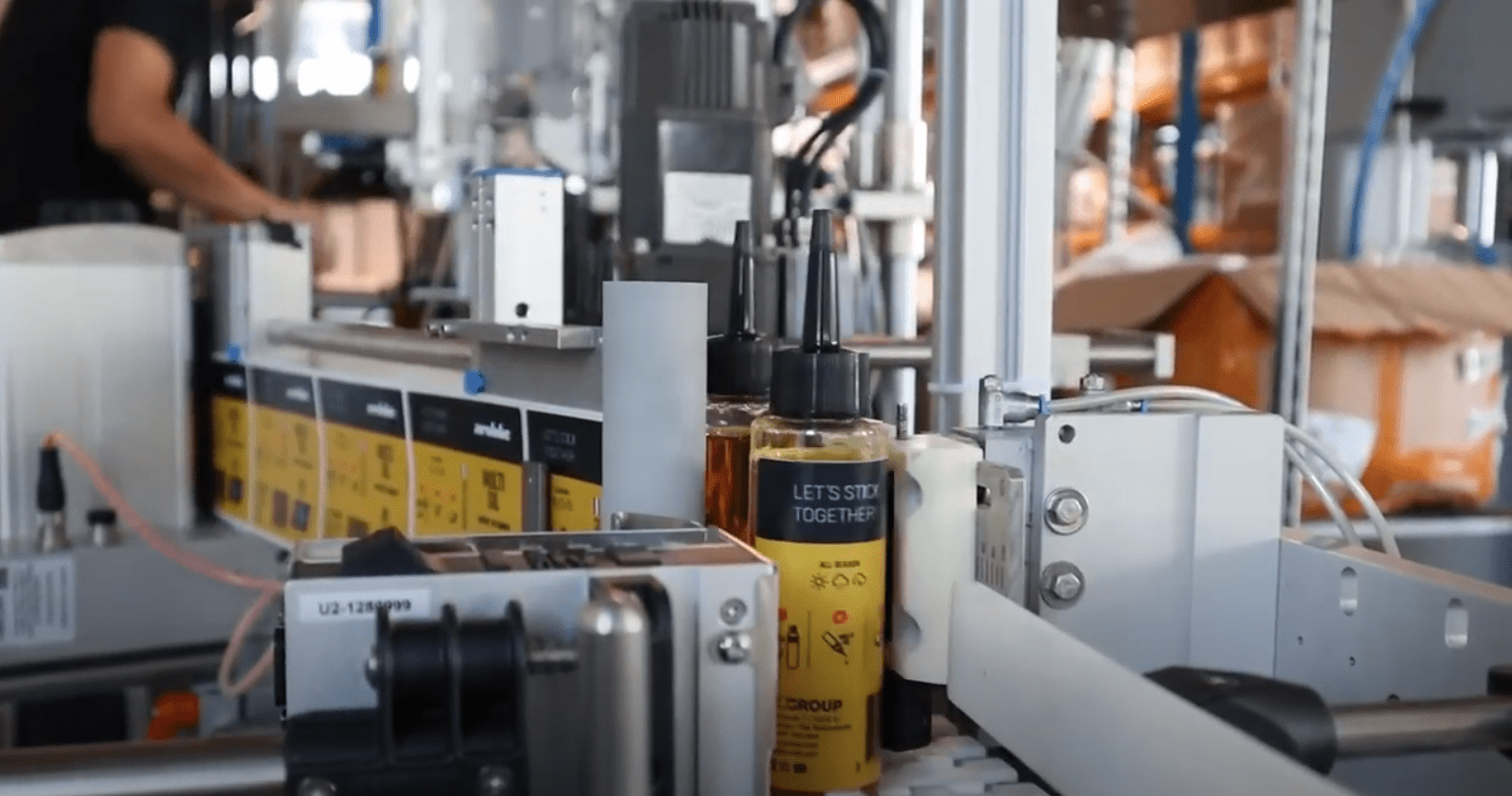 Minimized carbon footprint
Everything is designed to minimize the carbon footprint, Borgesius explains. 'We use rapeseed oil produced by local farmers. Our production facility uses green energy and no fossil gas. All ingredients are plant-based or from other natural, renewable sources.' He and his brother are convinced this is the way forward for oil and lubricants. 'Traditional companies are also moving in our direction.' However, whereas these companies start from, but all their existing, fossil-based processes, the Airogroup started with a "clean slate", which gives them an edge on the competition.
Go green
The first products, sold through a number of stores and resellers, are a success. 'It is not too difficult to convince customers to go green', says Borgesius. 'When we explain our products are bio-based, biodegradable and free of hazardous materials, they see the attraction.' The Airogroup also developed a bicycle tire sealant, based on sugar beet derivatives from Cosun Beet Company.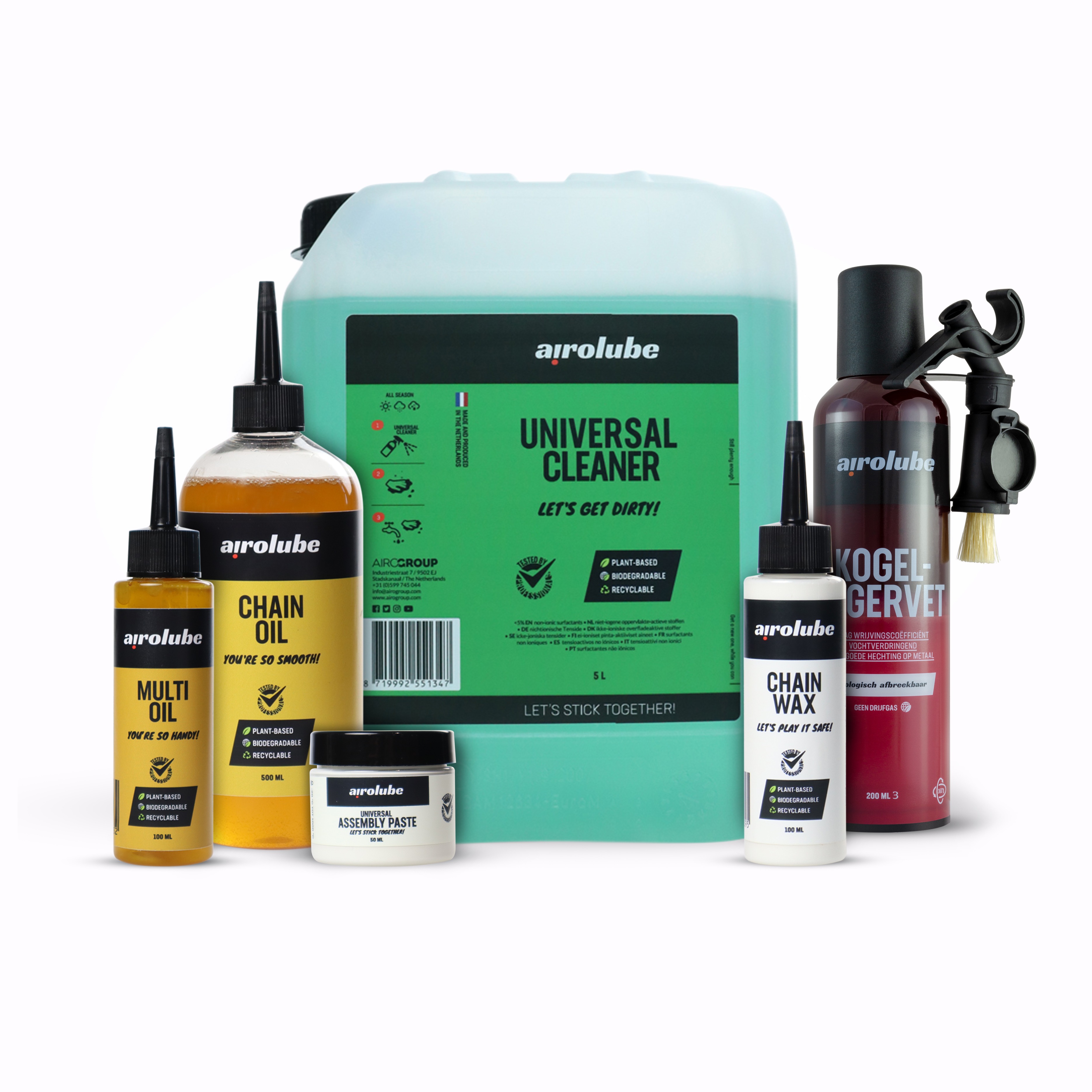 In supermarkets and DIY stores
Airogroup attracted fourteen employees and last year the first products went into production. Next to Airolube and Airomedics they are now in the process of launching a line of home care products. The sales department is negotiating with a group of supermarket chains to adopt the product line and to set up pilots. 'We want to test our products in the shops. For example, multipurpose cleaning fluids are usually colored. Our product is colorless to minimize additives and get it 100% natural, so we are interested to see how consumers respond.' The sales department also aims to have Airolube products on the shelves of a major chain of DIY stores, whom has already indicated commitment. 'It helps to have a complete line of products in one segment. In that case, the retailer can offer this instead of one of the many fossil-based alternatives.'
Free of hazard labels
Another unique selling point for the Airo products is that they don't require any hazard labels. 'We are probably the only company in the world to provide such a product range without flammable, toxic, corrosive or irritating substances.' And the range of products will be expanded. 'We still have a number of recipes on the shelf, products for which some of the green ingredients are currently too expensive to make it competitive.'
Creating bio-based production chains
The company was recently introduced to the Chemport Europe ecosystem. 'This certainly provides opportunities for us', says Goedhart Borgesius. 'Although our volumes are currently too small for many of the suppliers.' He is interested in by-products like plant-based glycerine, while the Airogroup already uses products from Cosun. And the volumes will increase. 'We aim to increase fivefold over the next few years.' Airogroup offers their own product range, but also allows private labelling of their products by resellers. 'We can also make custom adaptations to our products, or design and produce something new, based on the specifications of our customer. And all of it being bio-based and environmentally friendly. Let's make the change!'